BILLINGS - Chief Deputy U.S. Marshal Timothy Hornung announced Wednesday evening the capture of 35-year-old Willie Redd.
Hornung said Redd was arrested at the Motel 6 (North) on Midland Road in Billings by members of the Montana Violent Offender Task Force (MVOTF). Redd was arrested inside the hotel after the task force located the room he was occupying.
Redd is in custody at the Yellowstone County Detention Facility on a federal hold.
"The whole team worked the Redd case hard and put in some long hours. It did not take investigators long to realize that Redd was still in the Billings area. All investigators needed were to be diligent and patient with this case and today it paid off," Deputy Hornung said. "I could not be prouder of the Billings team of the MVOTF; their dedication to the investigation of Redd's whereabouts and their ability to safely apprehend him today."
According to authorities, on 5 Feb. a federal warrant for arrest was issued for Redd for violations of his supervised release. Redd was on federal supervision for a prior Weapons Possession conviction. The federal warrant was issued out of the United States District Court for the District of Montana – Billings Division.
---
MONTANA - Federal law enforcement is on the lookout for a man wanted for a felony warrant for probation Monday. 
According to the United States Marshals Service District of Montana, Willie Redd, 34, is on supervision for a prior weapons possession charge.
He is described as African American, stands 5-foot, 11-inches-tall, weighs 215-pounds, has black hair, brown eyes and tattoos.
Anyone with information is asked to contact the USMS at (406)247-7030 or your local law enforcement department.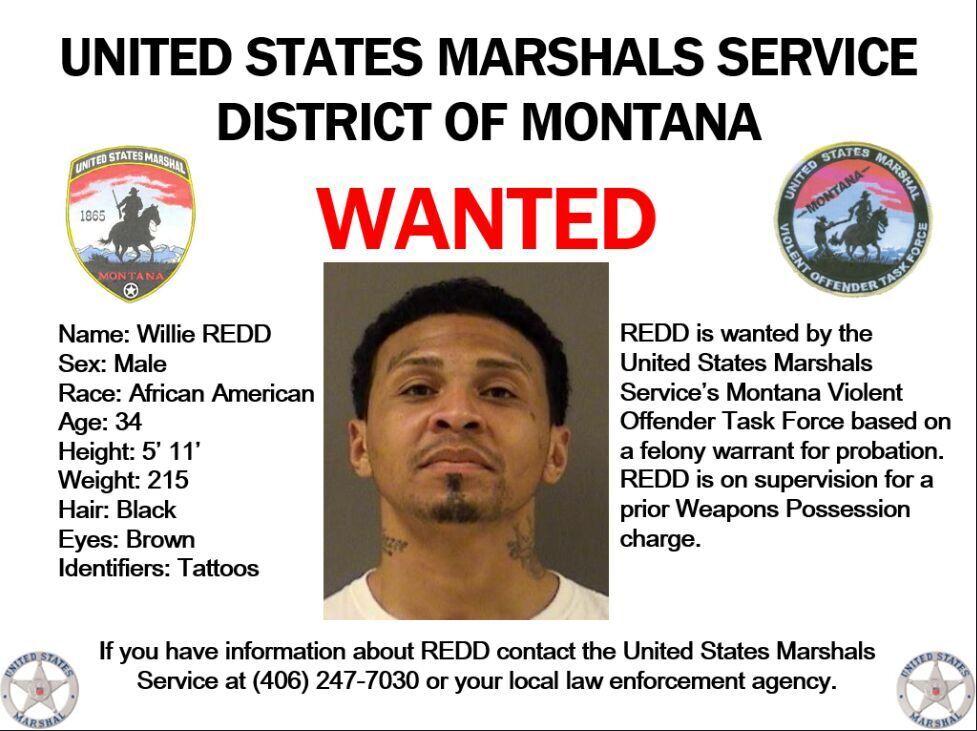 ---
Article updated on Feb. 18 at 1:14 pm with information on where Willie Redd is in custody.