There really was a guy named "Zip." Robert "Zip" Zuber built his first Zip's Drive In with the motto "Thrift and Swift" in Kennewick, Washington in 1953, wisely figuring to serve the workers, scientists, and their families coming to the Tri-Cities to work in the new nuclear industry.
Zip built his next store, in Spokane, on North Division – an immediate hit with the students at nearby Gonzaga College.
In the 1960's Zip's Drive In was the quintessential American Graffiti-era drive-in, replete with cars encircling the buildings beneath colorful awnings, phones for calling in your order from your car or table, and carhops and waitresses to bring your food. As charming as this might have been – and as much as it is missed by some – it was not quick enough to keep up with America's fast paced lifestyle, and by the early 70's drive-ins all over the country were closing.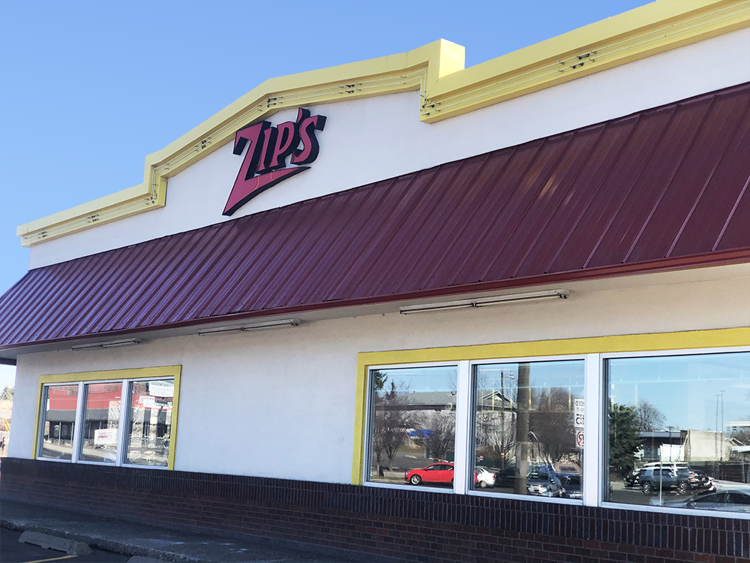 The individual operators of each Zip's location were savvy enough to see this trend and built some of the Northwest's first drive-through lanes, allowing Zip's Drive In to remain one of the few local hamburger chains to continue to thrive, still keeping Robert "Zip" Zuber's motto "Thrift and Swift" at the heart of our business today.
Swing through the drive through or come into the lobby and take an order to go. We are open Monday - Saturday from 10am to 10pm and Sunday 11am - 10pm. If you come inside the lobby, you might notice our famous tartar and fry sauce are no longer accessible to the guests, that's just one of the things we've done to keep you safe. But don't worry, our great Zip's team members will pack it up to go for you. So stop by today and pick up a double cheeseburger combo for only $5.99.
We are thankful for our community and hope to see you soon.