The Spokane-area and the Inland Northwest in general is known for a few things when it comes to sports: we're a running community; we're definitely a basketball community; and occasionally, we're a figure skating community.
Next month, The Spokane area will be joining the ranks of Kalamazoo, Wisconsin and Bemidji, Minnesota in becoming a curling community. 
Curling? That thing we all went crazy for a couple of years ago in the Olympics when some guys who look more like profession Chicago Bears fans ("Da Bears!") than Olympic athletes brought home a gold medal for the good ol' USA?
Anyone can do that, right? 
WRONG! Well, let me clarify. You can become a curler, but by no means should you expect to just jump off the couch, take a couple of lessons and then find yourself competing for your country on the world stage. 
"They may not look like Olympic athletes," Inland Northwest Curling Treasurer George Thomsen said Wednesday, "but those guys work hard and train really hard."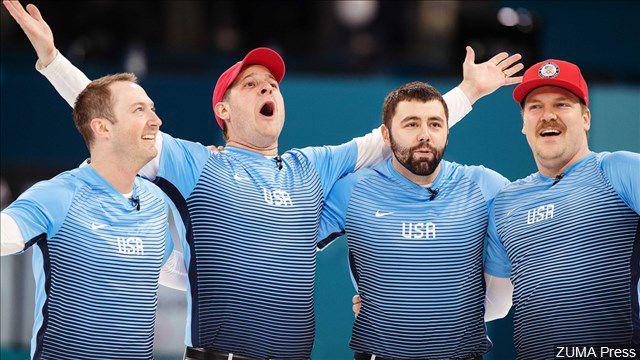 Thomsen caught the curling fever a couple of years ago and fell in love with the sport that's about to slide the Inland Northwest in the national spotlight when the National Curling Championships coming to Cheney on February 8. 
"It's a gentlemen's sport," Thomsen said. "It's very approachable. You can come out, you can come to a 'Learn to Curl' class, and by the end of it, you're gonna throw a stone and you're gonna get it down the ice and you can fairly quickly play a few games and be able to play and have fun."
If you're not familiar with the sport, here's a quick crash course:
Terms:
Stone: It's literally a piece of granite that you send sliding down the ice. It typically weighs about 40 pounds. 
House: This is where you send the stone. It's the target about 150 feet away from where you started. There are scoring rings within the house and your goal is to get your stone closest to the middle. 
Guard: A stone you would necessarily put in the target, but might place in front of another stone to "guard" it from being hit.
Draw: A stone you throw with the intention of scoring. 
Takeouts: A stone you throw to deliberately hit an opponents stone and take them out of scoring range. 
Skip: A team captain who you'll often find yelling at their team. Not in a bad way. It's all to communicate the strategy the team should follow and it tells the sweepers how they need to adjust to get the stone where it needs to go. 
Sweepers: They are the ones holding the brooms vigorously sweeping in front of the stone as it heads toward the house. The sweeping creates a subtle path that the stone can follow. 
Each game of curling starts with a handshake and a coin flip (Remember, it's a 'Gentlemen's game') to see who goes first. There are four people on a team and each takes a turn "throwing the stone" down the ice. Each team will throw eight stones in total and the team closest to the center will get the points of all the stones within the house. This process is repeated for 6-10 ends (rounds) until one team wins. 
"Why is it called curling?" 
It's called curling because stones are sent down the ice in a predetermined rotation and will end up "curling" to the house. George explained to me on Wednesday that you hold the stone at either "10" or "2" on the face of a clock and then just before you let go, you turn the stone and send it curling on its way. 
It's then up to your teammates to sweep in front of the stone and guide it to its destination. 
The team with the most points at the end of the rounds wins! 
It's a BLAST to play, but again, not as easy as one might think. By the end of my practice on Wednesday, between the extended lunging and the feverish sweeping, I had worked up a bit of a sweat! And I was no where near being able to compete on any level, but it was incredibly fun to try and to watch others who knew was they were doing show me just how bad I am. 
If you'd like to watch the National Championships in Cheney, February 8-15, CLICK here for more information and tickets. 
If you're interested in taking the first steps to getting some hands-on learning and potentially competing in the Olympics one day, CLICK HERE for information from the Inland Northwest Curling Club.