Firefighters in Spokane Valley knocked down a fire at an apartment complex Saturday night. 
Residents of the complex near Farr and Appleway were evacuated while crews worked to put out the fire. 
Spokane Valley Fire Department Captain Craig Warzon initially told KHQ crews on scene that the fire started on the second floor and quickly spread to the third floor. However, upon further investigation, it was determined the fire started on the third floor and burning material dropped onto the second floor balcony where it quickly spread to all three floors.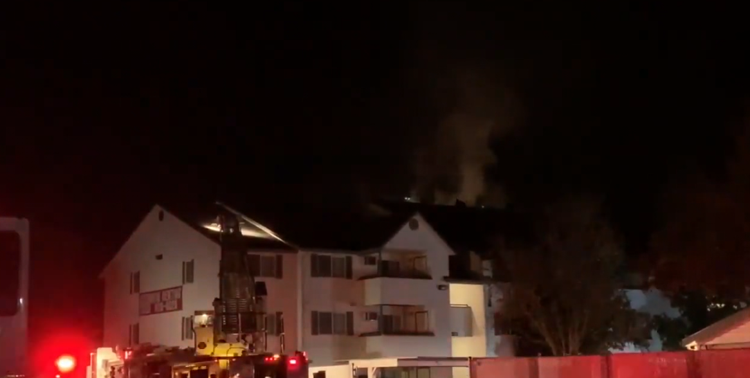 An official cause was not listed in a press release sent out by the Spokane Valley Fire Department late Saturday night, however, the release did include a reminder to properly dispose of smoking materials. 
Six apartment units suffered damage from the fire. Red Cross responded to the scene assist residents displaced by the fire. The Red Cross opened a shelter for displaced residents at North Pines Middle School at 11900 E. Broadway Avenue in Spokane Valley. 
"Evacuating residents are encouraged to bring the following for each member of their family: prescription and emergency medication, extra clothing, pillows, blankets, hygiene supplies, important documents and other comfort items. Additionally, special items for children and infants, such as diapers, formulas and toys, should be brought, along with other items for family members who may have other needs," the Red Cross said in a release. 
Two residents were treated on scene for smoke inhalation and sadly, a dog died in the fire.