I-90 near Coeur d'Alene is now completely back open, after a semi carrying corn syrup crashed, partially blocking the WB lanes.
The messy situation led to severe traffic jams, leaving some stuck in traffic for four hours.
Crews were finally able to clear the crash around 1:30 Thursday morning. The cleanup was delayed until the overnight hours, because the semi was spilling so much syrup.
---------------
PREVIOUS COVERAGE:
According to Idaho State Patrol, three troopers are on the scene of the syrup truck crash to redirect traffic. They will be turning people around through the eastbound lanes and setting up a westbound detour.
Originally, a towing company was in charge of redirecting traffic, but could not handle the amount of drivers.
Troopers have refueling kits on scene to help drivers who are out of gas. 
PREVIOUS COVERAGE Nov. 6 at 6:30 PM:
The semi-truck carrying syrup that crashed on I-90 westbound near Coeur d'Alene on Wednesday morning is still blocking the road. 
According to KHQ crews at the scene, every time removal crews get a grasp on the semi, it keeps spilling more syrup.
According to Idaho State Police dispatch, Troopers have been dispatched to the scene to help direct traffic.
According to officials, most of the day one lane has been open but both westbound lanes were recently closed.
KHQ has received multiple phone calls from people who have been stuck in traffic for three plus hours. 
PREVIOUS COVERAGE:
Idaho State Police say a semi-truck hauling syrup crashed on I-90 at milepost 16 near Coeur d'Alene Wednesday morning. 
ISP said on Twitter that the food grade syrup is leaking on the roadway and one westbound lane has been closed.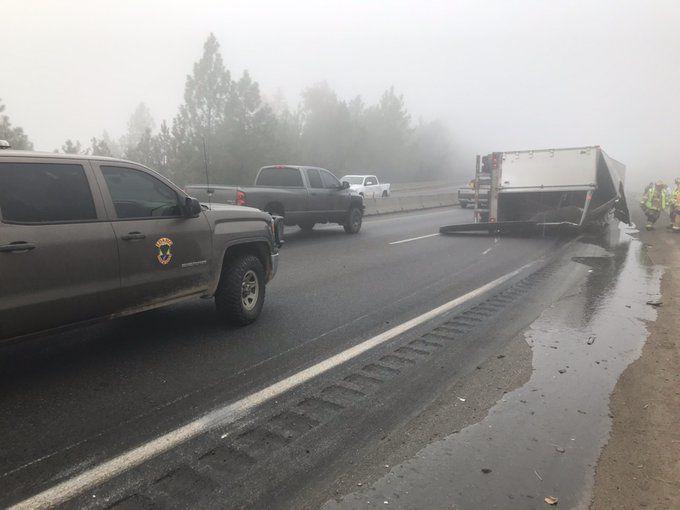 Troopers urge drivers to use caution and watch for first responders when traveling through the area.