The Spokane Police Department has a new General Order when it comes to suspects on the run. The department says it will no longer pursue suspects evading police while driving, unless the suspect is involved in a "crime of violence".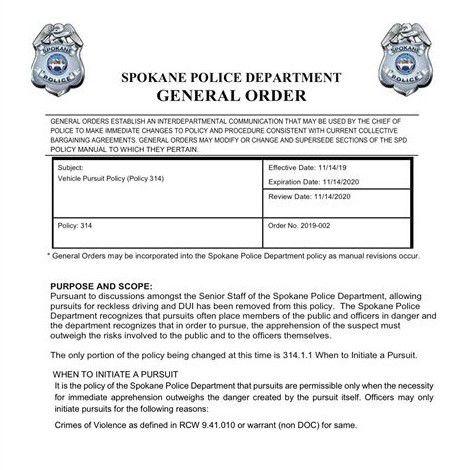 The crimes that would not be pursued include driving under the influence, reckless driving, speeding, etc. If the suspect does not stop for an officer, and has not committed a "crime of violence" the officers can no longer pursue.
According to the General Order, "pursuits often place members of the public and officers in danger... the apprehension of the suspect must outweigh the risks involved to the public and to the officers themselves."
KHQ reached out to SPD about this general order, and police wanted to be clear on a few things:
- This is not a get out of jail free card.
- They still have a multitude of ways to track suspects down.
- If you break the law, you will face the consequences.